Bondage Suit
HB-200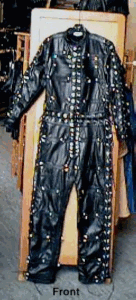 If you are looking for the most complete and total bondage experience for yourself or your boy, CJ's bondage suit has got to be it. This suit is put together with the finest 3 oz. soft leather on the market and contains 14 separate belts for maximum tightness and restraint. D rings located at intervals over the entire piece allow for the wearer to be bound in any position with virtually no chance of movement or escape.

The suit comes in two pieces, each of which may be worn separately. The jacket is constructed with laces up the front and up each arm so that a perfect fit may be obtained no matter what the body type of the wearer. Tit flaps may be included as an add-on option. The jacket tucks into pants and laces around the waist. The pants include lace-up sides, and a lace-up crotch and ass for absolute and convenient accessibility.

CJ's Bondage Suit includes all of the versatility of higher priced suits on the market and allows even the most frugal aficionado of SM to enjoy this total bondage fantasy. When ordering, please include measurements for arm length (shoulder to wrist), chest, waist, hips, thigh, calf, and inseam. Also include a measurement from the Adam's Apple to the top of the pubic bone.